30+ Gold Wedding Invitations Elegant, Cheap & Virtual (2020)
Life goes on in spite of the pandemic, and it should! Weddings are still on, but with a reduced number of guests. Now we have virtual weddings over Zoom, Skype and similar apps. Here are the most beautiful gold wedding invitations for online and offline ceremonies. You can customize them as you like, since they are completely editable.
Take a look at other beautiful and elegant wedding invitations!
Rose Gold Glitter Wedding Invitations
Rose gold is still going strong as a theme color. Take a look at a simple, but elegant rose gold glitter wedding invitation with the calligraphy sign "The Wedding of".
The second ceremony invite features very trendy blush marble and rose gold wedding invitation.
White and Gold Foil Wedding Invitations for Virtual Ceremony
Check out these beautiful white and gold foil wedding invitations for virtual and regular ceremony. The first has gold foil flourish and the second and third are minimalist gold and white invites.
Black and Gold Wedding Invitations for Online Ceremony
The first black and gold wedding invitation is really stunning with gold leaf and jasmine flowers on dark background, great for online wedding ceremony. The second is minimalist simple invite with gold glitter border. The third is perfect for fall wedding as it features sunflowers on rustic barn wood.
Burgundy Red and Gold Wedding Invitations Zoom Ceremony
These are our favorite burgundy red and gold wedding invitations for Zoom livestream ceremony. Beautiful gold frame and cute watercolor florals with blush pink and burgundy red blooms make sure that everyone will love them.
Navy Blue and Gold Wedding Invitations Online
Indigo or navy blue and gold wedding invitations are getting quite popular lately, so here are our favorites. Dark blue roses with gold leaves invite is perfect for online ceremony.
The second invite is decorated with range of light and dark blue shades flowers, leaves and gold frame. The third invite features navy blue and gold foil agate, very elegant design.
Dusty Blue and Gold Wedding Invitations
Check out cute dusty blue and gold wedding invitations with adorable flowers and gold details.
Virtual Royal Blue and Gold Wedding Invitations
This virtual royal blue and gold wedding invitations is adorned with beautiful blue roses, greenery and gold details.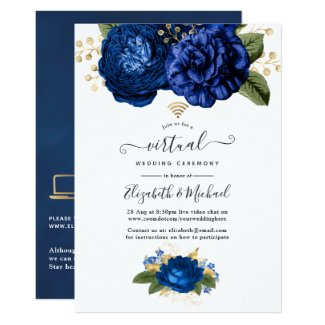 Purple and Gold Wedding Invitations
Take a look at elegant purple and gold wedding invitations. You can choose from rose gold or regular gold, you can't miss with these modern invites.
Blush Pink and Gold Wedding Invitations
For blush pink and gold wedding theme, these are some of the prettiest invitations.
Green and Gold Wedding Invitations - Virtual Ceremony
For virtual wedding ceremony in gold and green, here are our choices of green and gold wedding invites. The first is greenery and gold wedding invitation and the second has turquoise green roses and gold leaves.
---
Categories: Wedding
Tags: invitations | gold | black | white | rose gold | burgundy |
---