Emerald Green Wedding Invitations: Elegant Ceremony 2022
Find elegant, modern and rustic emerald green wedding invitations for perfect wedding ceremony: cute turquoise, sage, dark green, mint and olive all in one invites.
I want rose gold wedding invitation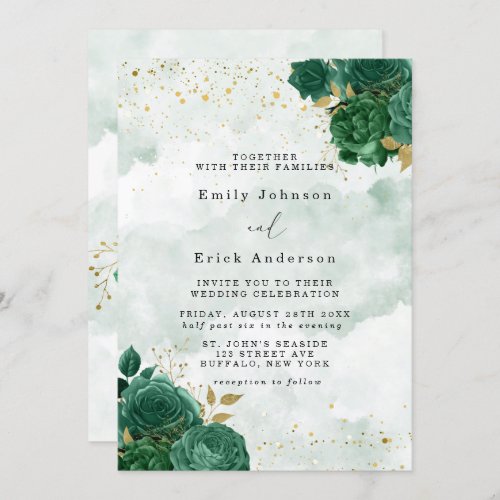 Are you planning green color themed wedding? You can start with our favorite inexpensive, editable green wedding invitation templates.
Elegant Emerald Green Wedding Invitations and RSVP Cards
Here are the most elegant emerald green wedding invitations and RSVP cards on Zazzle. They feature a modern abstract look with emerald green and white watercolor and gold details.
This article contains affiliate links, meaning: I get a small percentage of a sale if you decide to buy.
Affordable Emerald Green and Gold Wedding Invites
When it comes to emerald green and gold wedding invites, these two are our choice. The first has emerald peony flowers and gold glitter on light green watercolor background. It is very modern and interesting. The second has deep emerald green background and gold glitter texts. Also, you can insert a photo to make it unique.
Sage Green Wedding Invitations: Modern & Simple
Sage green wedding theme is very popular this summer, so here are the most beautiful sage green invitations for your happy day:
Modern Sage Green and Gold Wedding Invitations
For sage green and gold wedding invitations, here are my choices: the first is modern invite with handwritten "Celebrate with Us" sign in gold on a sage green background. The second is adorned with rose gold writing on sage green background and dark green branches.
Dusty Rose and Sage Green Wedding Invitations - Rustic Style
Take a look at rustic dusty rose and sage green wedding invitations. The first invite features beautiful florals, greenery and geometric gold frame. The second has blush pink roses and white flowers with greenery and gold.
Livestream Invitations for Wedding: Green Leaf Color Palette
If you are getting ready for smaller wedding, livestream invitations for wedding are a perfect choice. Below are modern cards for virtual ceremony in green leaf color palette. The first features elegant gold and sage green foliage. The second is botanical theme with cute sage green wreath. Both invites are great if you choose to downsize your wedding.
Dark Green and Gold Wedding Invites
Dark green wedding demands unique wedding invites. The first is a dark green and gold wedding invitation with glitter flourish on a solid background. The second is dark green wreath wedding invitation with gold on green design.
Mint Green Wedding Invites: Modern & Simple
Cute mint green and white wedding invitations with RSVP cards. The first is mint green watercolor wedding invitation and the second is mint green foliage wedding invitation with cotton flowers
Best Green All In One Wedding Invitations with RSVP
Trendy and very practical all in one wedding invitations come with easy tear off RSVP. You don't even need an envelope! Here are the most chic green all in one invites.
Take a look at wedding programs and stationary we offer at PrintableWares.com
Share