25+ Elegant Navy Blue Wedding Invitations Spring 2022
Find elegant and modern navy blue and rose gold wedding invitations with rustic sunflowers, roses, burgundy, silver. Editable simple cards for affordable ceremony, spring 2022!
I want navy blue wedding invitations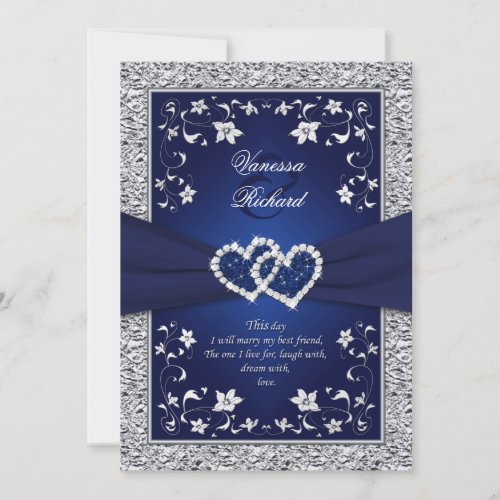 Elegant navy blue wedding invitations are wedding ceremony classic when it comes to stationary. You just can't go wrong with navy blue color scheme. Easily make your decision when it comes to choosing navy blue themed wedding invitation cards for spring and summer 2022. This article contains Zazzle affiliate links.
Table of Contents
Navy Blue and Rose Gold Wedding Invitations
Check these modern navy blue and rose gold invitations for your upcoming wedding. The first card features modern abstract shapes with rose gold glitter and dark blue and gold leaves. The second invite has blush background, rose gold frame and midnight blue roses.
The third template has an abstract design with rose gold glitter on a navy marble background. The last one has a happy whimsical look with cute calligraphy and glittery florals and leaves.
Rustic Navy Blue and Gold Wedding Invitates for 2022
Navy blue and gold are very popular color combo, since gold took over the wedding color scheme two or three years ago.
Here are my choices: The first is adorable rustic midnight blue invite with gold frame and burgundy red floral design. This invite comes with RSVP, menu and other stationary cards with the same design, so you can make your own set.
The second is invite with rose gold and midnight blue background with glittery confetti and calligraphy details. You can make your invitation kit with other stationary cards with the same design.
Here are the best virtual wedding invitations in navy blue you can find online. They are designed with clean and elegant style and they are completely editable. The first one features navy, maroon burgundy and rose gold roses. The second has elegant dark blue flowers and gold leaves.
Navy Blue and Coral Wedding Invitations
Affordable navy blue and coral wedding invitations with florals designed in watercolor technique.
Navy Blue and Dusty Rose Wedding Invitations
Here are the most elegant navy blue and dusty rose wedding invitations with roses in watercolor and metallic gold frame.
Navy Blue, Burgundy and Rose Gold Wedding Invites
Beautiful floral midnight blue, burgundy and rose gold invitations. Invites have adorable blush pink details as well and the fourth one features geometric gold frame.
Maroon and navy blue wedding are very trendy this season, so invites with roses, florals and glittery rose gold details will be great choice.
Navy Blue and Blush Pink Wedding Invitation
Take a look at these classy floral navy blue and blush pink invitation and program templates. I just love the way these two colors go together.
Unique Navy Blue and Silver Wedding Invitations
Here are unique navy blue and silver wedding invitations with white background. They have matching set of RSVP, details, menu, enclosure and other cards. The first is elegant virtual wedding invite with dark blue flowers and silver leaves. the second is very modern invite with light and dark blue shades of agate and silver glitter details.
The third invite features midnight blue roses in a jar and rustic looking lace. The fourth invite is designed in simple, minimalist style with monogram.
Navy Blue and Sunflower Wedding Invitations: Yellow & Blue
A bit of modern and a bit of rustic, that is my choice for navy blue and sunflower wedding invitations. Yellow and navy blue combine together beautifully, so stationary in these colors with stand out from the crowd.
The first and the third cards are modern designs with touch of rustic. The second and fourth are more traditional, for country outdoor wedding with barn wood, mason jar, string lights and lace.
Navy Blue and White Wedding Invitations
If you are into minimalism, you'll love these simple navy blue and white wedding invitations. Elegant dark blue calligraphy on a simple white background.
You might be also interested in wedding details cards and stationary.
Share