Elegant Cheap Wedding Program Fan Templates for Summer 2021
If you are looking for fully assembled, affordable wedding program fans that are editable and available in bulk, look no further! I looked and picked the best wedding ceremony program fans for summer 2021 weddings you can find for cheap on Zazzle.
Rustic Wedding Fans
Take a look at elegant rustic wedding program fans on a stick with wood background, mason jar and string light. This design is perfect for rustic outdoor reception. The second program has cute floral ornament and also string light.
Beach Wedding Program Fans
Take a look at these inexpensive beach wedding program fans! They are elegant and adorned with beach scenery. The second is more suitable for outdoor tropical destination wedding.
Round Program Fans for Wedding
If you are looking for round ceremony programs, don't miss these! The first has elegant eucalyptus greenery foliage border around the text and the second has blush floral details with gold border
Sunflower Wedding Ceremony Fans
Sunflower is the flower of this wedding season! These wedding ceremony fans are rustick looking with cute sunflowers on a barn wood background.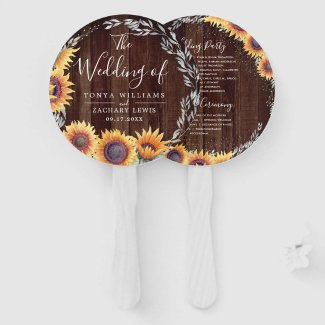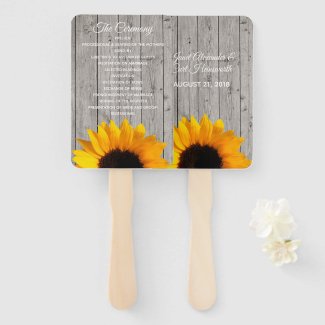 Simple Wedding Paddle Fans
For all of you future brides in favor of simpe, but very elegant design, take a look at these caligraphy paddle fan programs:
Personalized Wedding Hand Fans in Blue
When it comes to personalized wedding hand fans, navy blue and dusty blue are always very popular color choices. The first paddle fun is very trendy with its marble and glitter texture in gold and navy blue color.
The second program is minimalist dusty blue with calligraphy flourish script "Love".
Heart Shaped Wedding Favor Fans
Check out these cute heart shaped program fans! You can personlize it with your text and make it fun and unique! The first one is perfect for beach wedding as it features beautiful beach scene with two starfish. The second ceremony program is designed with watercolor technique and it has romantic blush pink and gold peach flowers.
---
Categories: Wedding
Tags: programs | rustic | summer | beach | sunflower |
---