22 Affordable Sunflower Wedding Invitations (2022)
Check out 22 elegant, affordable sunflower wedding invitations! Editable templates, easy to customize, perfect for country summer wedding, in burgundy, gold & navy blue.
I want sunflower wedding invitations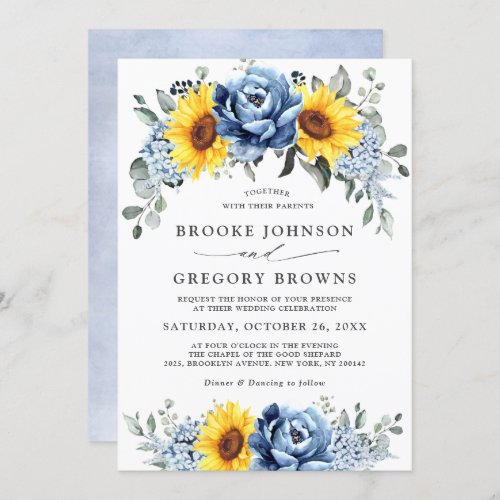 So, you have a rustic sunflower themed wedding idea and you are looking to organize an indoor or outdoor wedding that is elegant, but affordable. Look no further, at least for wedding invites, because I listed the most beautiful yellow sunflower wedding invitations, you can find on Zazzle. Sunflower wedding invitations are perfect choice for late summer and fall weddings.
This article contains affiliate links.
Floral invites are cute, but what is more important, designed as editable templates, so you can edit them any way you want and add a bit of your personality to them. So, lets start!.
Burgundy Sunflower Wedding Invitations
If you are looking for yellow and maroon wedding colors for your stationary, check our these beautiful burgundy sunflower wedding invitations. The first card features floral border with maroon roses, sunflower blooms and deep green leaves on white background.
The second invite has a rustic look with string of lights and flowers in a mason jar. If you are interested in mason jar invites, scroll down for more…
Sunflower and Red Rose Wedding Invitations
Sunflowers and red rose wedding invitations are also very popular among brides to be. The first card has pretty sunflower and burgundy rose with navy blue flowers and greenery on white background and gold typography. The second template is more rustic and has border of bright red roses, sunflowers and greenery on barn wood background.
Royal Blue and Sunflower Wedding Invitations
Royal blue and sunflower wedding invitations are not easy to find these days, but here are two! The first invitation template is adorned with sunflower and hydrangea in gorgeous shades of blue and green. The second card has cute watercolor royal blue and yellow floral design on white background.
Navy Blue and Sunflower Wedding Invitations
The first navy blue and sunflower wedding invitations has a border of adorable daisies, sunflowers, greenery, baby's breath, and lily of the valley florals on barn wood background. The second template also features navy blue barn wood background with lace, string lights and mason jar full of sunflowers. Perfect for navy blue and yellow wedding.
Rustic Sunflower Wedding Invitation Cards
My next two choices are perfect for country wedding invitations with sunflowers. Rustic sunflower wedding invitations feature mason jar full of sunflower bloom, lace and barn wood background with vintage feel.
Sunflower Mason Jar Wedding Theme Invitations
You could see the sunflower in mason jar wedding invites above, but here are two more so you can have more cards to choose from. Both invites are designed in rustic vintage style with sunflower, mason jar and lace doilies.
Simple Yellow Wedding Invitations with Sunflowers
Take a look at these elegant and simple yellow wedding invitations with sunflower. Templates are designed with watercolor on simple white background and adorned with pretty sunflowers in yellow, orange and maroon shades and greenery.
Purple Sunflower Wedding Invitations
For purple and orange wedding, you should check out these lovely invitation templates. The first purple sunflower wedding invitation features beautiful florals and geometric gold frame. The second purple and sunflower wedding invitation feature border of sunflowers and purple roses on white background.
Teal and Sunflower Wedding Invitations
For all of you interested in teal and yellow wedding stationary, check out these adorable teal and sunflower wedding invitations. They are both designed for rustic, country wedding with barn wood background. Deep green and yellow color go great together and you will not go wrong with them.
Share