30 Purple Baby Shower Invitations for Fall 2020
Looking for cute purple baby shower invitation templates for cheap? Look no more, because we handpicked the best editable baby shower invitations for girls.
You can choose from purple alone or in combo with other popular baby shower colors, like teal green, pink, gold, silver gray, or turquoise, we have it all. You will get new ideas for organizing the shower just by looking at these adorable designs. Just click on the picture you like if you want to know more. So, lets go!
Purple Little Pumpkin Baby Shower Invitations for Fall 2020
Purple pumpkin baby shower invitations for fall can be really adorable! The first card is designed in purple and orange color palette with bright orange sunflowers and pastel purple pumpkin. The second editable template has watercolor painted pastel purple roses, pumpkin and gold foil text.
Drive by Baby Shower Invitations in Purple
These days, social distancing is very important, so organizing drive by baby shower party is not unusual and it is fun! Here are the lovliest drive thru baby shower parade invitations with cars.
The first is combination of pink and green colored cars and purple house with colorful "Drive by, Honk & Wave" sign. The second is elegant purple plum and teal invite designed in watercolor techique.
The third card features purple and yellow flowers and greenery and funny purple car and forth invite is pink and purple great for celebrating little girl on her way.
Purple Virtual Baby Shower by Mail Invitations
Continuing with baby shower during coronavirus… If you decided to have virtual baby shower by orgaizing it online with Zoom or other apps, here are the cutest purple baby shower by mail invitations. The first is perfect for elephat baby shower theme with purple and gold colors. The second and third card feature colorful balloons.
The forth virtual invite is my personal favorite because of adorable animals with facial masks. It doesn't matter if you'll decide to organise online baby shower or drive through, there are plenty invites to choose for perfect virtual baby shower!
Purple and Gray Baby Shower Invitation Templates - Silver Winter 2020
Take a look at this elegant virtual purple and gray baby shower invitation template. It features little lavender flowers and gray text.
I can't think of purple and gray baby shower theme, without thinking about winter sunset. Fabulous for winter baby shower. Invitations templates in purple and gray glitter will be perfect for winter baby shower.
Halloween Baby Shower Invitations in Purple
Bats, spiders, witches are all favorable when organizing Halloween themed baby shower. Here are spooktacular purple Halloween baby shower invitations.
Purple Butterfly Baby Shower Invitations
These purple butterfly baby shower invitations templates are designed with soft purple and lavender bubbles and pink glitter. Very girly with butterfly kisses, quite perfect for party idea honoring mom to be, expecting a little baby girl.
Purple and Teal Baby Shower Invitations
Purple and teal baby shower invitation templates are fabulous choice for "Little Mermaid" or "Under The See" shower theme. These pretty little mermaid invites are great for celebrating baby girl to come.
Purple and Gold Baby Shower Invitations Online
Purple and gold baby shower invitations templates are still trending as baby shower theme color combination. Since these are traditionally royal colors, purple and gold royal princess baby shower theme comes to mind.
Other themes, as unicorn and butterfly baby shower theme is very often colored in purple and gold. If you choose to include watercolor in your backdrop and invite design, be sure you will not make mistake.
Pink and Purple Baby Shower Invitations
For planning purple and pink baby shower for a girl, take a look at these cuties. Baby shower invitations with pink and purple butterfly or purple owl baby shower invitations can give you awesome ideas for baby shower themes, colors and decoration. Add a bit of gold glitter to purple and gold decoration, and you will have baby shower to remember.
Unicorn Baby Shower Invitations
Take a look at these adorable unicorn girl baby shower invitation templates. This adorable designs feature watercolor pink, purple and blue flowers, unicorn face and faux gold glitter confetti.
Purple Elephant Baby Shower Invitations
Baby elephant is still popular baby shower theme. Purple elephant baby shower invitations with touch of gray, teal or gold are very trendy. So, check out these purple and gray elephant baby shower invitations with floral design or traditional chevrons and polka dots.
Purple and Yellow Sunflower Baby Shower Invitations
Purple and yellow sunflower baby shower invitations are great if you are planning summer of fall baby shower theme. Take a look at the first invite! It is adorned with beautiful watercolor painted sunflowers and purple and blue flower budds surrounded with greenery. The second card is more traditional with gradient purple background and border of yellow sunflowers.
Purple Floral Baby Shower Invitation
Here are the best two purple floral baby shower invitation templates. Beautiful purple flowers around unicorn or butterfly with shades of pink blush and lavender will adorn every baby shower party.
Purple Princess Baby Shower Invitations
Take a look at these adorable purple princess baby shower invitations. The first has beautiful shades of purple and teal with pretty baby girl and tiara. The second is little princess with crown sitting on the throne.
Purple and Turquoise Baby Shower Invitations
This purple and turquoise baby shower invitation can inspire you to organize a magical party for mom to be with lots of glitter. You just can't go wrong with glitter and green, turquoise and purple cakes and decoration, your party will be to remember.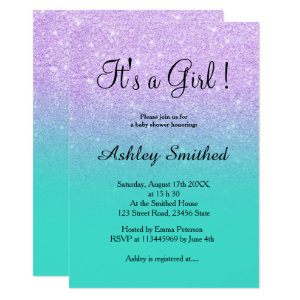 All these baby shower invites are great for gathering ideas for a party. With purple as a chosen color, just add "She's Ready to Pop", "Sweet Baby", "It's a Girl", "Oh baby" and you have a perfect theme! Enjoy!
Related posts:
Also, we recommend our adorable purple scrapbook paper packs, perfect for DIY baby shower invitations and decor:
Subscribe
---
Categories: Baby Shower
Tags: invitations | purple | drive by | girls | teal | pink | gold | elephant | butterfly | floral | turquoise | silver | green | yellow |
---