Cute Purple Baby Shower Invitations with Teal, Gold, Pink
---
Categories: Baby Shower
Tags: invitations | purple | girls | teal | pink | gold | elephant | butterfly | floral | turquoise | silver | green | yellow |
---
Looking for cute purple baby shower invitation templates for cheap? Look no more, because we handpicked the best editable purple baby shower invitations for girls.
You can choose from purple alone or in combo with other popular baby shower colors, like teal green, pink, gold, silver gray, or turquoise, we have it all. You will get new ideas for organizing the shower just by looking at these adorable designs. So, lets go!
Related posts:
Purple and Teal Baby Shower Invitation Templates
Purple and teal baby shower invitation templates are fabulous choice for "Little Mermaid" or "Under The See" shower theme. These cute little mermaid invites are great for celebrating baby girl to come.
Purple Butterfly Baby Shower Invitation Templates
These purple butterfly baby shower invitation templates are designed with soft purple and lavender bubbles and pink glitter. Very girly with butterfly kisses, quite perfect for party idea honoring mom to be, expecting a little baby girl.
Purple and Gold Baby Shower Invitations Templates
Purple and gold baby shower invitations templates are still trending as baby shower theme color combination. Since these are traditionally royal colors, purple and gold royal princess baby shower theme comes to mind.
Other themes, as unicorn and butterfly baby shower theme is very often colored in purple and gold. If you choose to include watercolor in your backdrop and invite design, be sure you will not make mistake.
Pink and Purple Baby Shower Invitations
For planning purple and pink baby shower, take a look at these cuties. Baby shower invitations with pink and purple butterfly or purple owl baby shower invitations can give you awesome ideas for baby shower themes, colors and decoration. Add a bit of gold glitter to purple and gold decoration, and you will have baby shower to remember.
Unicorn Baby Shower Invitation Templates
Take a look at these adorable unicorn girl baby shower invitation templates. This cute designs feature watercolor pink, purple and blue flowers, unicorn face and faux gold glitter confetti.
Purple Elephant Baby Shower Invitations
Baby elephant is still popular baby shower theme. Purple elephant baby shower invitations with touch of gray, teal or gold are very trendy. So, check out these purple and gray elephant baby shower invitations with floral design or traditional chevrons and polka dots.
Purple Floral Baby Shower Invitation Templates
Here are the best two purple floral baby shower invitation templates. Beautiful purple flowers around cute unicorn or butterfly with shades of pink blush and lavender will adorn every baby shower party.
Purple Princess Baby Shower Invitations
Take a look at these adorable purple princess baby shower invitations. The first has beautiful shades of purple and teal with cute baby girl and tiara. The second is little princess with crown sitting on the throne.
Purple and Turquoise Baby Shower Invitations
This purple and turquoise baby shower invitation can inspire you to organize a magical party for mom to be with lots of glitter. You just can't go wrong with glitter and green, turquoise and purple cakes and decoration, your party will be to remember.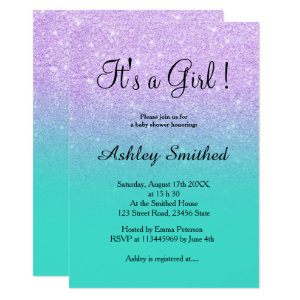 Purple and Silver Winter Baby Shower Invitations Templates
I can't think of purple and silver baby shower theme, without thinking about winter sunset. Fabulous for winter baby shower. Invitations templates in purple and silver gray glitter will be perfect for winter baby shower.
Purple and Yellow Baby Shower Invitations
Purple and yellow baby shower invitations are great if you are planning sunflower baby shower theme. All these baby shower invites are great for gathering ideas for a party.
With purple as a chosen color, just add "She's Ready to Pop", "Sweet Baby", "It's a Girl", "Oh baby" and you have a perfect theme! Enjoy!
Also, we recommend our adorable purple scrapbook paper packs, perfect for DIY baby shower invitations and decor:
Subscribe