Best Affordable Pink Baby Shower Invitations 2022
Get best pink baby shower invitation templates for girls for 2022! Winter wonderland, baby elephants and other online, long distance baby shower themes and ideas!
I want pink baby shower invite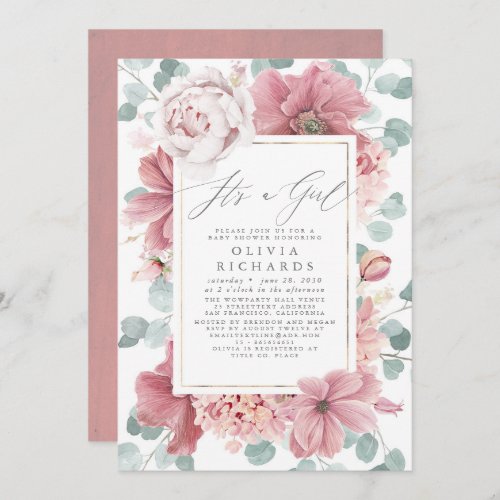 Check out unique, affordable pink baby shower invitations for girls, honoring mothers to be! We handpicked the cutest pink blush baby shower invite templates for baby girls you can edit with your wording and customize as you like. Prepare elegant and inexpensive baby shower party on a budget and celebrate new mum and baby girl on the way!
Winter Baby Girl Shower Invitations Templates
If you are organizing winter baby shower, these invites might be great choice for you. Pink winter wonderland with silver snowflakes with "A Little Snowflake is on Her Way" sign.
Boho Pampas Grass Baby Shower Invitations
Boho Pampas Grass Baby Shower Invitations
Pink and Gold Baby Shower Invitations
If you are looking for pink and gold baby shower invitations, take a look at these elegant floral watercolor designs. The first invite features adorable blush pink flowers and gold glitter with "It's a Girl" writing.
The second is beautiful watercolor design full of blush pink flowers and "Sweet Baby Girl" writing with gold details.
Pink Butterfly Baby Shower Invitation Templates for Girl
Take a look at these adorable pink butterfly baby shower invitation templates for a baby girl. The first is minimalist, simple and elegant invite with pink and blush butterflies and the second is rustic with dark barn wood background and pink flowers and butterfly.
Subscribe
Share