Burnt Orange Wedding Invitations 2022
Get best burnt orange wedding invitations for 2022. Have a beautiful boho wedding with terracotta rust colors, pampas grass and greenery.
Get burnt orange wedding invitations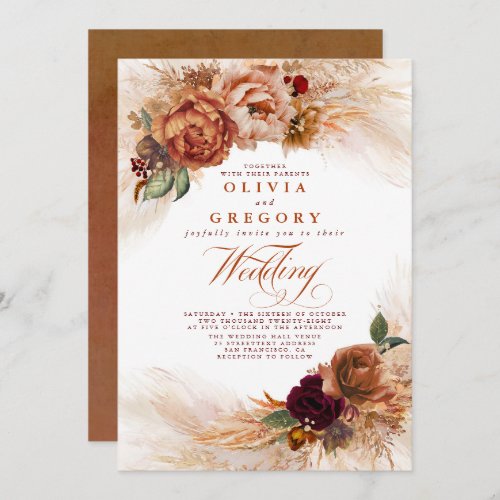 This is the best collection of boho burnt orange wedding invitations for 2022 from Zazzle. The invites are editable and you can change the text as you want on them. This article contains affiliate links, meaning: I get a small percentage of a sale if you decide to buy.
Burnt Orange All In One Wedding Invitations
Burnt orange seal and send wedding invitation with pampas grass and beautiful florals. Boho terracotta wedding invite with blush and white flowers.
Sage Green and Terracotta Wedding Invitations
Sage green and terracotta wedding invitation with wreath and rust orange and sage green all in one wedding invite.
Rust Terracotta Floral Wedding Invitations
Rust orange floral wedding invitation with pampas grass, roses and leaves. Terracotta floral invite with tan neutral background.
Burnt Orange and Navy Wedding Invitations
Navy blue and burnt orange all in one wedding invitation with beautiful flowers in the corners. The second card is simple terracotta and navy blue invite with heart and cord.
Terracotta and Greenery Wedding Invitations
Terracotta and greenery wedding invitation with monogram. The second is burnt orange and green leaves card.
Dark Teal and Burnt Orange Wedding Invitations
Dark teal and burnt orange wedding invitations with lily and floral.
Purple and Burnt Orange Wedding Invitations
Lavender purple and burnt orange wedding invitation with floral design. the secont is a rustic invite with purple and terracotta flowers on wood background.
Don't forget to check out other wedding stationary!
Share