Editable Baby Shower Invitations for Boys 2022
Find cheap editable baby shower invitations for boys for 2022! Virtual drive by, online shower by mail, little pumpkin baby shower invites celebrating mother to be.
I want baby boy shower invitations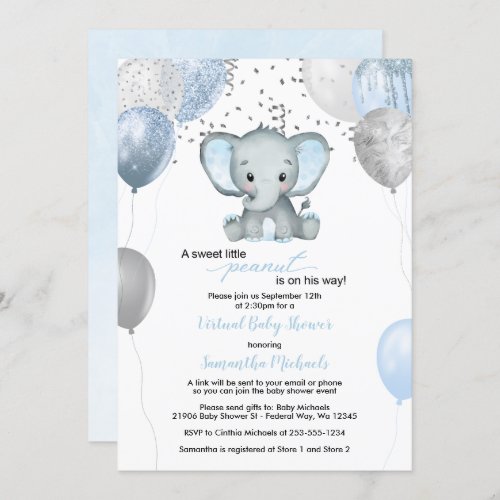 Someone close to your heart is expecting baby boy and you are in charge to organize a baby shower? Check out these beautiful cheap and editable baby shower invitations for boys! This article contains affiliate links.
Table of Contents
Light Blue Baby Shower Invitations
Take a look at these cute light blue baby shower invites. The first is navy and light blue watercolor floral invite. The second features a vintage car and sky blue balloons. The third is full of glittering confetti "Baby and Brunch" theme and the fourth has an adorable little baby elephant with balloons.
Modern Navy Blue and Gold Baby Shower Cards
The cutest navy blue and gold baby shower cards with "It's a Boy" sign and "Oh Baby Boy" shower theme with balloons.
Baby Elephant Shower Invitations Templates
Editable blue and gray elephant baby boy baby shower invitations templates are still the most popular invites for a baby shower. The first invite is designed with adorable baby elephant wearing bow tie and sitting on a palm leaf in beautiful shades of baby blue, green and gray.
Another great suggestion is blue and gray baby boy elephant shower invitation for a party celebrating the mum to be expecting a little boy.
Cute Teddy Bear Baloon Baby Shower Invitations
Teddy bear with baloon baby shower theme is very popular this spring, so I picked these two adorable blue invite templates. The first features cute stuffed teddy bear with a bow tie, baloon and "It's a Boy" writing on blue watercolor background.
Very cute light blue and green baloons and teddy bear cub baby shower invite is my second choice for the mum to be celebration.
Unique Black and Gold Baby Shower Invites
Black and gold invites with stripes, little gentleman tuxedo, bow tie and suspenders.
Simple Blue and Teal Baby Shower Theme
Beautiful blue and teal watercolor baby shower theme invites, great for Under The Sea party.
Royal Blue Prince Invitation Background Editable Template
If you are in royal blue baby shower theme, take a look at these invites with gold and silver crown and glitter with "It's a Boy!" and "A Little Prince is on His Way" sign.
Best Virtual Baby Shower Invitations for a Boy
If you are organizing baby shower long-distance, virtual baby shower theme is an amazing idea. Check these simple blue invites!
Share